ArcGIS Server
ArcGIS Server consente la pubblicazione di mappe e informazioni geografiche a cui accedere ovunque, in qualsiasi momento e su qualsiasi dispositivo attraverso browser web, smartphone, tablet e applicazioni desktop.
Con ArcGIS Server è possibile gestire le risorse geografiche quali mappe, dati e tools integrandole all'interno delle applicazioni, utilizzando una varietà di applicazioni e modelli pronti all'uso al fine di agevolarne l'uso in modo rapido e intuitivo.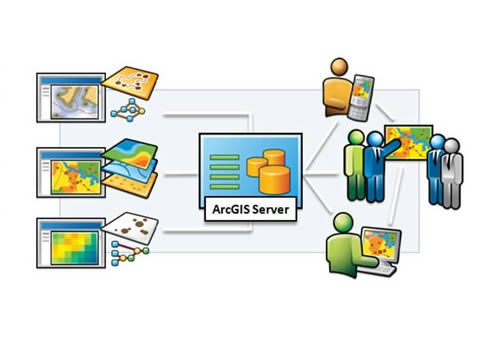 Le
principali caratteristiche
di ArcGIS for Server sono:
Pubblicazione di servizi e di processi geospaziali;
Include ambienti potenti e di facile utilizzo per la creazione di applicazioni Web;
Disponibilità di applicazioni pronte all'uso per l'utilizzo di servizi GIS;
Disponibilità di basi cartografiche online e di servizi geospaziali;
Fornisce il supporto al geodatabase enterprise, la gestione delle transazioni.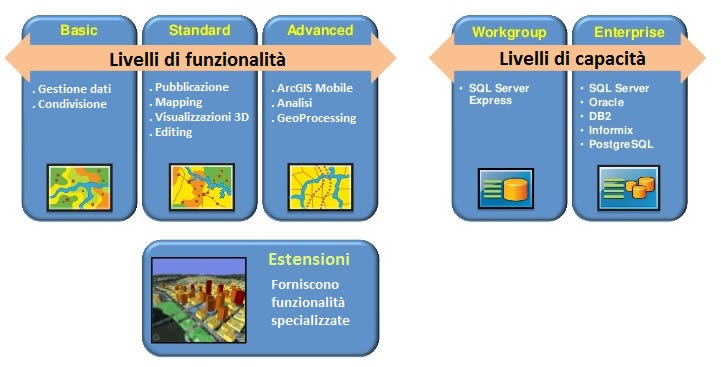 ArcGIS for Server offre una linea completa e scalabile di soluzioni server, tutte costruite su un set comune di componenti tecnologiche, diversificate per funzionalità e capacità.
E' disponibile nelle 3 edizioni Basic, Standard e Advanced.
ArcGIS for server Basic
ArcGIS for Server Basic è la soluzione per condividere l'accesso ai dati geografici. Il prodotto fornisce tutti gli strumenti per la gestione del Geodatabase su DBMS
IBM DB2 and IBM Informix Dynamic Server
Microsoft SQL Server, Microsoft SQL Server Express, and Microsoft SQL Azure
Netezza
Oracle
PostgreSQL
Include le funzionalità per la gestione delle modifiche delle banchi dati effettuate da più utenti contemporaneamente e gli strumenti per la pubblicazione dei dati.
ArcGIS for server Standard
ArcGIS for Server Standard è la soluzione per quanti hanno la necessità di pubblicare, visualizzare, analizzare ed effettuare le modifiche delle banche dati geografiche centralizzate in ambiente Web.
Il prodotto fornisce tutte le funzionalità di ArcGIS for Server Basic oltre ad una collezione di strumenti per la pubblicazione Web di dati 2D/3D e un'applicazione browser-based per l'editing.
ArcGIS for server Advanced
ArcGIS for Server Advanced oltre alle funzionalità delle edizioni Basic e Standard, ha la capacità di estendere le applicazioni a client "mobile" e consente analisi specializzate dei dati. Il prodotto include un ambiente di sviluppo per client leggeri (palmari e smartphone) che consente di realizzare applicazioni per Windows mobile, Android e IOS della Apple.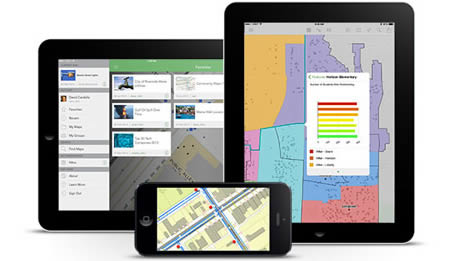 Principali funzionalità delle edizioni
| | | | |
| --- | --- | --- | --- |
| | Basic | Standard | Advanced |
| Supporto per Spatially Enabled Databases | X | X | X |
| Geodatabase Management | X | X | X |
| GIS Web Services | Geodata Service | X | X |
| Image Services | | X | X |
| Web Mapping Applications | X | X | X |
| Smartphone and Tablet Applications | X | X | X |
| Web Editing | | X | |
| Geoprocessing | | X | |
| Advanced Geoprocessing | | con Estensione | X |
| Real-Time Data Support | | con Estensione | con Estensione |
| Web GIS capabilities using Portal for ArcGIS | | X | X |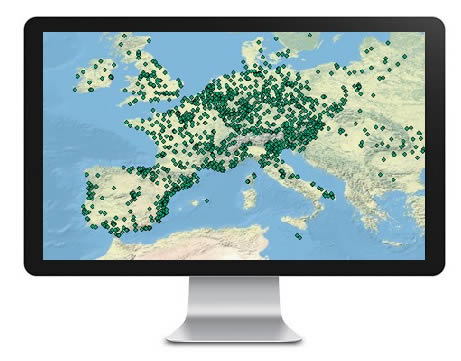 Per ciascuna delle 3 edizioni, sono disponibili 2 livelli di capacità:
Workgroup: utilizzabile esclusivamente in ambiente Windows, include Microsoft SQL Server 2008 Express per la gestione del geodatabase, supporta fino ad un max di 10 utenti collegati (nessuna limitazione per accessi Internet) e 10GB di dati.
Enterprise: multipiattaforma, supporta i DBMS Microsoft SQL Server, Oracle, IBM DB2, IBM Informix e PostgreSQL), nessuna limitazione di utenti collegati e dimensione di dati.
Le estensioni di ArcGIS for Server
La capacità di analisi di ArcGIS for Server è potenziata dalla disponibilità delle e dai numerosi tools di geoprocessing.
* solo windows